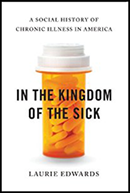 As of yesterday, In the Kingdom of the Sick is officially available in bookstores and online.
I have so much more to say about all of this, and about writing and audience and lots of other things, but this week, I'm simply juggling virtual events, in-person events, the end-of-semester crunch, and the like.
So let me say the most important thing of all—thank you! To those of you in real life who have supported me and helped me find time to write, to those of you who are virtual cheerleaders, to those of you who gave me your time and insights along the way, and to all of you who have shared links, posted items, and plan to read the book. I can't wait to hear your thoughts.
Yesterday, I had the pleasure of doing a Q&A with Paula Kamen over at Ms. Magazine's blog. There are lots of other links to share in the coming days, but here's an important update: my segment for Fresh Air will run tomorrow, April 11. The show runs 1-2pm; check your local public radio stations or listen online.
(I will be doing an Author event at Northeastern during that time, so you'll hear it before I do. Be kind ☺)